3 Ways To Manage Hubspot Data More Easily
For as long as Hubspot has been in the picture, marketing and sales teams have been using it to track data that extends beyond the platform's default options.
If we were to be honest with ourselves, all the data updates and imports are making reporting a more lengthy and challenging process than it needs to be.
Fortunately, auditing your Hubspot data to make reporting an easier process doesn't have to be your worst nightmare. The ease of managing Hubspot data comes down to three simple features.
Let's get into it...
Custom Filters
Hubspot's default filters are great to help you get up and running quickly and easily. This includes filtering contacts, companies, deals, or other criteria you choose to add. The purpose of this is to narrow down your Hubspot data in order to segment your audience based on specific characteristics.
But don't let default filters limit how you use Hubspot. To better navigate your Hubspot data, consider creating custom filters. For example, editing different columns of your contacts or records to include properties that your marketing team reports on and a separate set of filters for your sales team.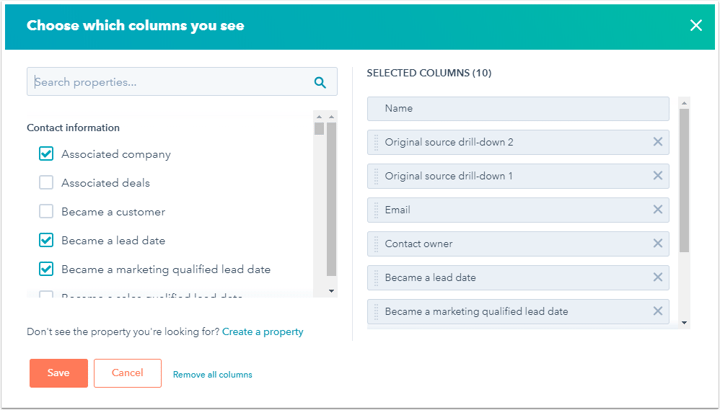 Once complete, you'll be able to consistently populate these contact or deal properties with ease. Being able to customize these filters doesn't only help with reporting. It's also necessary for marketing decisions such as which lists to push through designated workflows. (We will touch on workflows further in the next section.)
Hubspot Workflows
"Workflows in Hubspot are just for lead nurturing." Is this statement true or false?While workflows is a great way to nurture leads automatically, data management is one of the use cases that get commonly overlooked.
Here are 3 workflow actions you can take to automate data tracking in Hubspot:
1. Set custom dates based on conversions. For example, your workflow is triggered when a contact fills out your demo form. Create the new property "demo request date" based on form submission time and use this to report demo requests.

2. Uncover website visitor interest. For instance, you want to see if your customer case studies are engaging with visitors. Create the new property and name it something along the lines of "Landing Page Source". Then, you could create a workflow triggered by the enrolment criteria "First Page Seen Contains Case Studies" and set that custom property to "Case Studies."
3. Create new properties in workflows to clear segmented data in bulk. Here's an example: In your Hubspot workflows clear the "Lead Status" property in all contacts associated with the workflow. A time you would use this is when a deal on this workflow is lost/closed and you want to qualify new contacts at a company.
These are just a few examples of how you can use workflows to save time auditing Hubspot data. Using workflows is the first step to marketing automation and making your reporting that much more effective. Setup your workflows to get hours back in your day.
Kloudio Report Builder
Like most HubSpot features, the platform's reporting options are limited by tiers. For most, this means 20 reports and one dashboard. That means without an Enterprise account, Hubspot's reporting functionalities aren't up-to-par with what most marketing teams need.
If you want to make the most of your Hubspot data, it's important to regularly audit meaningful reports. These reports should be resources you can look back on to inform upcoming strategic decisions and provide actionable insights. For example, what types of workflows converts the most leads to customers, what changes need to be made and more.
Collaborate with your marketing and sales teams to ensure reports reflect insights you need to stay informed with. If you've already maximized the potential of Hubspot's reporting feature, it's time to look for tools that can provide more understanding.
A great place to start is Kloudio's self-service report builder. With integrations that sync up your Hubspot data to Google Sheets, Excel and other databases of your choice, you aren't limited to one dashboard for reporting. Instead, marketing teams are able to customize reports, analyze data and transfer these reports securely and with ease to any web or cloud applications (Salesforce, JIRA), databases or warehouses (BigQuery, RedShift) and communication tools (Slack, Amazon Alexa).
Reports can help you determine who is interacting with your content and the value they want to see in your product or service. As a result, you want to make sure you're staying informed about the factors that drive visitors to become leads and eventually purchase.
Auditing and updating your HubSpot data shouldn't be time consuming. Make use of all three tips above to run marketing and sales reporting with ease.
---